My favorite !!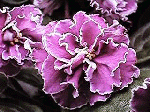 SUN SIZZLE

White edged and frilled flower.

---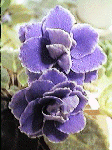 YELLOW STONE

Edge of this flower grows fine hair.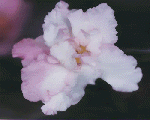 MS.PRETTY

This is my first plantof Saintpaulia.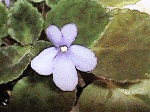 S.ionantha

Primary Saintpaulia,ionantha.
The vains of a leaf are dark.
A flower is blue color,so I suffer troubles for taking photos.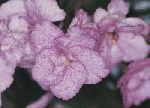 CHERRY SPARKLES

I like pink splashed flowers,so I grow many pink flowered Saintpaulia.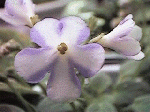 PONY RIDE

Stripe and bell flower,PONY RIDE
Recently,I got bell flower,wasp flower and girl foliage.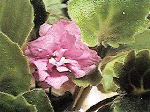 VICTORY Tr.

A girl foliage with variegation,trailer,VICTORY TRAIL.
A flower with purple splash.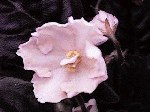 PLAYFUL DREAMER

Light yellow mottled flowers,PLAYFUL DREAMER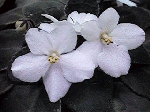 ROB'S GRAY GHOST

A white flower is tinged with green,ROB'S GRAY GHOST.
Leaf color is dark,so leaf in a photo is dark.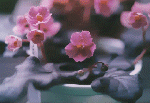 ROB'S HOT CHOCOLATE

Color of a foliage is looks like chocolate.
Color of flower is good,too.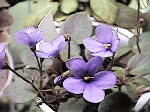 WOOD TRAIL

WOOD TRAIL,a young plant growing on a stalk.
I like trail plants,but not so good blooming.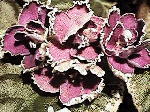 WR'S SPANISH CAVALIER

A gorgeous flower,WRANGLER'S SPANISH CAVALIER .
A foliage with variegation.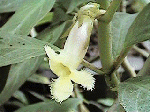 Drymonia stenophylla

Drymonia in Royal Botanic Garden Kew.
It is yellow cute flower,so I took photos.