Room of hamster

I like animals. But I live in an apartment house,so I can raise mini animals.
A beginning of raising dwarf hamsters is that I had a dwarf hamster &quotARTY&quot
got by a friend on network. The hamster family grows larger.


My favorite !!

He(She?) is one of "CHIBIRA" family.
Thay are many and they have same face,so I can't distinguish.
And it's hard to take photographs, because they move fast.
So their photographs are not so many.

---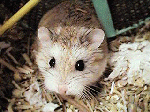 His name is "Nanazo"
He is very timorous.

---
Back to HOME